OCR software
for invoices is a high-impact, turnkey OCR solution that automates, centralizes, and simplifies every part of the Accounts Payable process. Right now, chances are your AP department relies on manual data entry to keep up with the daily flood of invoices and other documents. Even if you already receive
EDI 810
invoices, many more likely arrive via paper. And like most departments, yours is probably closely monitored and scrutinized, with constant pressure to expedite processing while increasing invoice visibility. Have you ever wondered how to achieve:
Faster, more efficient invoice processing at a lower cost?
Immediate visibility of invoices upon arrival?
More time for higher-level processes and payment issues, not mere data entry?
Smoother, simpler integration of accounting data with other applications?
Greater ease in merging paper invoices with EDI 810 output?
Take a moment to watch the short video below, and learn how start-to-finish AP automation
immediately
enables all the above.
Whatever the size of your accounting team,
OCR
software brings unparalleled efficiency to the payment process. Empowering anywhere from a single clerk to a large, internationally distributed team is simple a matter of selecting the correct
OCR license
—no software to write or esoteric infrastructure to deploy. Better still, when it's time to offer the same workflow efficiency to other departments, you can leverage an existing license for any new users, documents, processes, and locations!
Accounts Payable Automation with Invoice OCR Software
OCR-based automation renders the AP process touch-less from capture through approval and posting, all at a price point that makes sense even in small, lower-volume settings. But just how does OCR technology fit into an automated Accounts Payable workflow?
Invoices from all sources reach one destination, no matter whether they originated as output from 810 EDI transactions, email, faxes, or even paper.
Automatic classification algorithms intelligently recognize the type of document and any supporting attachments, then organizes them by your own business logic.
It rapidly extracts data from each field, leveraging both built-in country profiles and customized rules.
Numbers are quickly validated against databases and calculations, then quickly verified through an intuitive operator interface.
It learns on the fly, so speed and accuracy get even better with each document.
Invoices are instantly matched with purchase orders and can even be paid automatically in accordance with your department's policies.
After export to an ERP or other system(s), documents are stored as searchable PDFs to facilitate access and prevent paper clutter.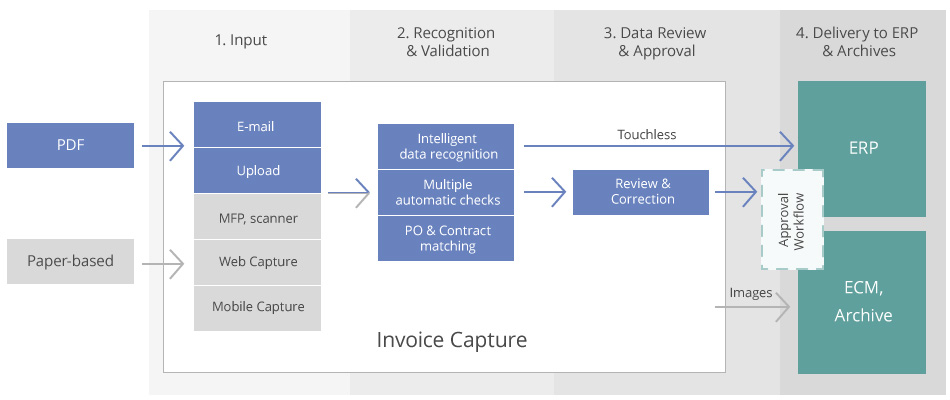 Whether your vendors number in the dozens or in the thousands, their invoices will be processed in a fraction of the time and with previously unobtainable accuracy. And with over 180 languages at its command, our invoice OCR software excels in firms with diverse, global supply bases. Explore this
datasheet
for a more detailed look at how OCR could revolutionize the process and management of Accounts Payable in your own office.
OCR Automation Benefits for Accounts Payable
It's time to cut out the redundant, laborious, error-prone manual input that has defined AP for far too long. While you're at it, why not improve cash management and forecasting by making invoices more transparent and visible to management, while cutting their processing time by an order of magnitude? And for that matter, how about effortlessly combining digital
EDI 810
processing with data from inbound paper invoices? This is now a reality for AP departments worldwide that take advantage of this standalone, low-footprint OCR solution. The solution begins with market-leading
OCR
data capture software, then adds numerous features that deliver out-of-the-box value to Accounts Payable. From the moment it's installed, users can benefit from:
Customizable business rules and invoice tracking to make sure the right documents reach the right people, every time
Absolutely minimal manual input, for higher accuracy in less time
Tidy, accessible audit trails
A central point of entry for all invoices and related documents
Please
contact us
to learn more about bringing the benefits of AP automation to your organization, or visit our companion site for detailed information on
OCR pricing
, technology, case studies,
reviews
, and much more.