RightFax
integrates with HP Multifunction Printers (MFPs) and Digital Senders to bridge the gap between paper documents and digital document delivery. RightFax-HP MFP integration enables companies to provide a seamless workflow solution for all their document communication needs. RightFax integrates with HP Multifunction Devices (MFDs) in a variety of ways and provides a multitude of benefits to organizations looking to leverage their existing MFP / MFD infrastructure.
RightFax Integration with HP MFPs
RightFax can integrate with HP MFPs in a variety of ways. OpenText, the manufacturer of RightFax, developed the RightFax Connector for HP MFPs to provide native integration to a variety of HP multifunction devices. The RightFax Connector for HP MFPs fax enables an organizations HP fleet through a tested connector, granting HP MFP devices with some of the functionalities and capabilities of RightFax, the market leading fax server technology solution, including:
Ability to scan paper documents and fax these documents via fax
Various delivery options
Receive delivery notifications
Custom cover sheet options
Shared phonebook
Card reader authentication
For devices not supported by the RightFax Connector for HP MFPs, RightFax integrates via the SMTP connector. The SMTP connector provides scan-to-email functionality granting unsupported HP MFP/MFD devices with the ability to fax directly from the device or to fax directly from a user's desktop.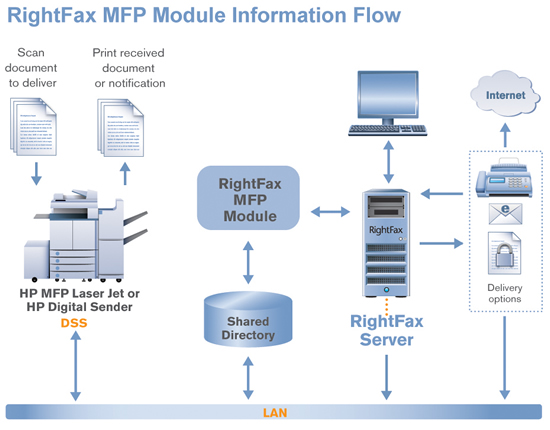 RightFax Integration with HP MFP Benefits
Fax enablement of HP MFP devices through RightFax integration provides organizations with added capabilities to their existing HP MFP / MFD devices. The fax enablement of an organization's existing infrastructure effectively consolidates fax activity and provides a host of other benefits, such as:
Reduced Costs - Replace stand-alone fax machines and eliminate the related cost of support contracts, phone lines and supplied. Additionally, consolidated network faxing reduces the modem and phone-line costs associated with stand-alone workstation faxing.
Increased Productivity and Efficiency - Allow users to fax from the same device used to print, scan, and copy, saving time and improving workflow processes.
Centralized Control of Faxing - Provide one point of control for network faxing of hard-copy and electronic documents by moving all fax resources to the network.
Simplified Fax Software Administration - Install and manage the RightFax Server with easy-to-use administrative tools designed to automate routine tasks, troubleshoot problems and monitor and report fax activity.
Improved Security - Ensure privacy and compliance by providing secure document delivery channels.
Scalability - Start with a single channel network fax server and expand to as many as 1,024 channels. Additional capacity can be added to handle email, CRM, ERP and other business applications.
RightFax-HP integration grants organization's with a host of benefits that improves current processes, simplifies management and cuts operational costs.
HP MFP Devices Supported for RightFax
RightFax integrates with HP MFPs in two ways. The generic RightFax SMTP Connector provides basic fax server interaction for all HP MFPs / MFDs.
Alternatively, the native RightFax-HP connector facilitates a more nuanced and customizable user experience on several popular HP devices.
The RightFax Connector for HP MFPs provide organization's with added features common to RightFax users. There are two subtly different versions of this connector, each providing nearly identical features for HP's two main integration frameworks.
The first option supports HP DSS MFPs. As of DSS 5.0, they include:
| HP LaserJet MFPs | HP Color LaserJet MFPs | HP Document Capture Workstations | HP Digital Senders | HP Officejet Enterprise MFPs | HP PageWide MFPs |
| --- | --- | --- | --- | --- | --- |
| M525 MFP | M575 MFP | Scanjet Enterprise 7000n/nx | HP Digital Sender 9200c | X585 MFP | PW586 |
| Flow MFP M525 | Flow MFP M575 | Scanjet Enterprise 8500 fn1 | HP Digital Sender 9259c | | PW Color MFP 780 |
| M3035 MFP | CM3530 MFP | ScanJet Enterprise Flow N9120 fn2 | HP Digital Sender Flow 8500 fn11 | | PW Managed Color MFP E776[50/60] |
| 4345 MFP | CM4540MFP | | HP Digital Sender Flow 8500 fn21 | | |
| M4345 MFP | 4730 MFP / CM4730 MFP | | | | |
| M4555 MFP | CM6030 MFP | | | | |
| M5035 MFP | CM6040 MFP | | | | |
| M725 MFP | M775 MFP | | | | |
| M830 MFP | M880 MFP | | | | |
| 9040/9050 MFP | 9500 MFP | | | | |
| M9040 MFP / M9050 MFP | MFP M680 | | | | |
| M527 MFP | M577 MFP | | | | |
| M630 MFP | MFP M631/M632/M633 | | | | |
| | MFP M681/M682 | | | | |
| | Managed MFP E625[55/65/75] | | | | |
| | Managed MFP E675[50/60] | | | | |
| | Flow MFP M681/M682 | | | | |
| | Flow MFP E675[50/60] | | | | |
| | Managed MFP E725[25/30/35] | | | | |
| | Managed Flow MFP E725[25/30/35] | | | | |
| | Managed MFP E778[22/25/30] | | | | |
| | Managed Flow MFP E778[22/25/30] | | | | |
| | Managed MFP E825[40/50/60] | | | | |
| | Managed Flow MFP E825[40/50/60] | | | | |
| | Managed MFP E876[40/50/60] | | | | |
| | Managed Flow MFP E876[40/50/60] | | | | |
The more limited set of OXP/d MFPs has its own connector version, available
only with RightFax 10.5 through 10.6 FP 2
:
CM8060
Color LaserJet CM4540
ScanJet 7000n
LaserJet M525
Color LaserJet M575
ScanJet 8500fn1
LaserJet M4555
LaserJet M725
LaserJet Color MFP M775
LaserJet MFP M830
LaserJet Enterprise Flow M880
Officejet Enterprise Color X585
Color LaserJet Enterprise Flow M680
HP LaserJet MFP M630
To discuss your workflow objectives and verify HP device compatibility with RightFax, please